T.j. clark colloidal minerals - superior quality organic minerals
T. J. clark Colloidal minerals are developed from plant-sourced minerals specifically to supplement the balance of the body?s natural need for true minerals.

This unique liquid mineral comes from the solitary source on the planet where vegetation, millions of years ago, was covered with dirt and rocks in some cataclysmic earthquake.

Purchase Vibrant Life - Oral Chelation : T. J. Clark colloidal Minerals

Now you can have superior quality organic minerals from these plants, grown when the soil was rich, the air pure and the water clean.
Pricing: 1 Bottle = 1 quart (32 ounces)

* 1 Bottle: $25.00
* 4 Bottles: $75 (25% discount)
* 8 Bottles: $140 (30% discount)

You can order by calling (818) 558-7099 or (800) 523-4521 or by emailing us at barb@oralchelation.com

FREE GIFT!!! Mention "Adeex.com" when you call or e-mail and you will receive a free gift valued at $35.00 with your first order.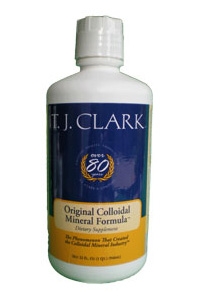 T.j. clark colloidal minerals - superior quality organic minerals