Oracle bpm 11g online training tutorial
Published: May 21 for
Anonymous
Keen technologies is the best specialized software
online
training service provider for various computer IT courses based on specific needs of the students we are providing one to one online
training
with great opportunities in the present trend.
oracle
Business Process Management, a member of the Oracle Business Process Management Suite, is a complete set of tools for creating, executing, and optimizing business processes. The suite enables unparalleled collaboration between business and IT to automate and optimize business processes.
Oracle BPM Suite 11g Overview
? Benefits of BPM, process modeling and the Oracle BPM Suite 11g product
Introduction to Oracle BPM Studio
? Features JDeveloper (Oracle BPM Studio)
BPMN Modeling
? Discussion of BPMN 2.0, process, roles, activities and basic process patterns BPM Elements: Activities, Events, Gateways
Modeling business processes withBPMCreating Business Process FlowCreating Business objects in Business CatalogData Objects:Explaining Data Objects and their scope, Declaring Process and Project Data Objects
? Process Data Objects:
? Sub process Data Objects
? Project Data Objects
Data AssociationsCreating and definingProjects Defining Role and Organization UnitsCreating Roles and using Users from LDAPOrganizing processes using Swimlanes Adding user interaction to Process FlowControlling Process Flow
? Defining exclusive gateways, implementing exclusive gateways, Parallel gateways, Sequence flows communicating with external processes and
services
viz., DB Adapter,JMS Adapter Configuration and implementations.
Also Covers XPath and XSLT
? XSLT and XPath explained and learn how to transform one type of XML document into a different type.
BPMN Activities Task Types:
? Service Task
? Send & Receive Task
? User Task
? Manual Task
? Rules Task
? Script Task
? Call Task
BPMN Gateways:
? Exclusive OR(XOR) gateway
? Parallel (AND) gateway
? Inclusive OR gateway
? Complex gateway
Please feel free to mail us for demo session or call @91+ 9989754807
Contact: trainings@keentechnologies.com
Website URL: http://www.keentechnologies.com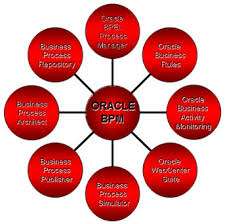 Oracle bpm 11g online training tutorial