Informatica online course at low price cost and join with a free demo
Published: May 21 for
suryabigclasses
Informatica
Online
course
at low price cost and join with a Free Demo
BigClasses offers the best
online
training on mostly all the top modules of IT industry. Informatica is one of the top domain in the IT industry to give your career a kick start. BigClasses provides interactive job oriented Informatica training online on the basis of both normal and fast track durations.
BigClasses provides the learners all over the world with our best
services
to boost your skills very easily, some of the services are
Access to remote server
Digital Library (Text books, Course materials, videos)
Interview preparation with Resume preparation and FAQ's
Practice sessions
We provide the best informatica online training with very experienced and highly talented trainer. Our main objective is to provide the best training on all the IT courses in very high quality standards to make your understanding levels the best.
All the major concepts of Informatica are covered such as
Introduction to Data Warehousing
Power center components and user interface
Source qualifier
Expression, Filter, File lists and Workflow Scheduler
Sequence Generator
Router, update strategy and over rides
Dynamic lookup and Error Logging
Unconnected Lookup, Parameters and variables
Sorter, Aggregator and Self join
SCD type 1
SCD type 2
SCD type 3
Mapplets
Workflow variables and Tasks
Worklets and more tasks
Follow or like our facebook page by following the link www.facebook.com/bigclassestraining
For more information send us an enquiry to info@bigclasses
https://www.facebook.com/InformaticaOnlineTrainingCertification
Reach us at http://www.bigclasses.com/informatica-online-training.html
Write review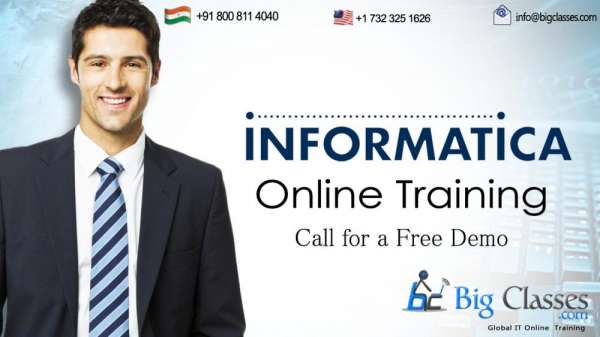 Informatica online course at low price cost and join with a free demo
Write review
Leave your comments on this ad
Offensive messages and spam will be removed